Welcome To Harleston Jewellers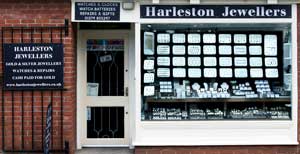 A small friendly family run jewellery shop founded in 1999 offering gift ideas, from traditional to unique.
Catering for every budget with jewellery including silver earrings from £3 to top end precious stone gold earrings. Also a large selection of chains, bracelets, rings, watches, jewellery boxes and much more.
As well as jewellery and gifts, we also mend jewellery, watches and fit batteries.
This website sells a selection of New 925 Silver Jewellery (more instore) and showcases the more unusual hard to find gift ideas that are not in store and a small selection of pre loved jewellery that is part of a bigger selection in store.